Microsoft Office 365 Migration & Support Services
Do you want to be productive wherever you go? Do you want to work faster and smarter? Let RMON Networks help migrate your business to Microsoft Office 365!
RMON Networks has migrated thousands of seats to Office 365. Our solution experts will help you identify the proper licences, guide you through the pre-migration checklist, perform the migration, and also be there to support you and your team post migration to ensure everything is running smoothly.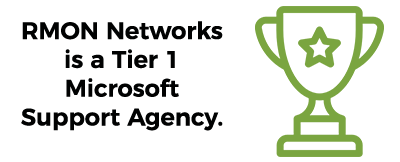 "The RMON Networks team helped transition our company's email system to Microsoft Office 365, from an ineffective and outdated legacy email system. The attention to detail, great attitude, command of the process and technology, and complete professionalism were refreshing and effective, and the result has helped our business run better. The engagement was an excellent value, too, and billing and invoicing always clear and timely. Furthermore, the occasional check-ins by your account team, even given our very small size relative to most of your clients, is appreciated."

Duality Branding – Bill Heggie
Office 365 is the most secure cloud productivity solution with the most complete set of commercial-grade productivity offerings on the market today. With over 100 million monthly active commercial users, Office 365 technologies span all productivity categories including Authoring, Mail & Social, Site & Content Management, Chat, Meeting & Voice and Analytics.
Why Businesses of all sizes choose Microsoft Office 365
Privacy and Security
One of the biggest concerns for businesses today is security. Microsoft has designed all its online services with tight security. All its applications are accessed through 128-bit SSL/TLS encryption, so that only an authorized person can access them.
Compliance
Microsoft Office 365 services have been certified as ISO 27001 standards compliant, completed SAS70 Type I and Type II audits, and achieved EU Safe Harbor seal. Microsoft also helps customers comply with Health Insurance Portability and Accountability Act (HIPAA) and Family Educational Rights and Privacy Act (FERPA).
Compatibility
Microsoft Office 365 not only supports Windows 10 and Windows 8 pro, but also Windows 7. It's not necessary to have the latest operating system to use it. Apple users can also access it using MAC OS. It can be accessed online with Internet Explorer, Mozilla Firefox, Google Chrome, or Apple Safari.
Anytime, Anywhere Access
With Microsoft Office 365, workers can be productive anytime, from anywhere. Not at your office computer and need to do a quick edit? No problem, Office 365 has Web Apps to help you there. The Word, Excel, PowerPoint, and OneNote can be accessed from the Office 365 web portal from any internet connection. The content can be created or edited and further it can be posted to SharePoint or saved to SkyDrive. It helps businesses achieve their commitment by delivering consistent and optimized experience across mobile devices, computers and browsers. Employees can access archived mails and documents even in the offline mode.
Rich set of capabilities
Employees can collaborate online and edit a document together with real-time coauthoring in Word. They can work along if the file is saved to OneDrive or SharePoint. The screens can be shared, have conversations with colleagues, using the Skype on desktop or mobile. The notes can be converted to tasks inside the calendar and can be assigned to colleagues with reminders and deadlines.
Familiar Products
In most cases, Microsoft Office 365 can be used immediately without any training. The Office 365 product portfolio is widely used and accepted. Most are already familiar with the product suite and require little to no training.
Flexibility
Businesses have choices between a pure cloud environment, an on-premise solution, or a hybrid cloud, with Office 365. They can move some users to cloud services while keeping others on on-premises for operational reasons. The users will have the same management tools across online and on-premise servers. You can also mix and match licenses where appropriate to create a solution to fix your needs and budget.
As a Microsoft Silver Certified Partner, RMON Networks has the experience and proven track record to assist your company with your Office 365 Support or Migration.

Contact us today to learn about RMON Networks' Office 365 Migration & Support Services.