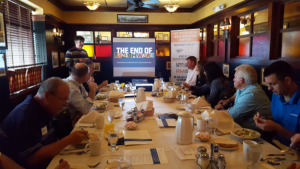 RMON Networks together with our security partner Sophos hosted a great lunch and learn at the Chateau on Nov. 2nd. The topic was about how to stop ransomware. Many business executives enjoyed great conversation with each other regarding common challenges they face, in addition to learning about today's latest security protection methods. Stay tuned for our next educational event!
RMON recently exhibited at the Greater Salem Chamber of Commerce's Business Expo. It was a great night, and we met many great business people. Congratulations to our raffle winner Tara Lynch of Foxx Life Sciences! Tara won one year of Office 365 and a North Face backpack!
This was RMON Networks 6th year attending the NHMA Conference. We are proud to support the NHMA, and all of the NH Municipalities. Thanks for another welcoming expo. The lucky winners of our giveaways are: Amazon Echo Dot, Diane Hurd, Pelham, NH. Office 365 for one year, Sally Theriault, Town of Hampstead, NH. NorthFace Backpack, Jodi Pinard, Town of Chichester.